What is Digital Signage?
A communication and marketing tool that allows you to broadcast multimedia content on a screen, an interactive kiosk or a tablet. Staying up to date with the newest marketing tech can be a struggle for any broker and broker owner. The space changes so quickly, so how can you
know if the latest cutting-edge solution is right for you? Dynamic digital signage is one such solution.
Multifaceted Marketing Tool to Boost Your Sales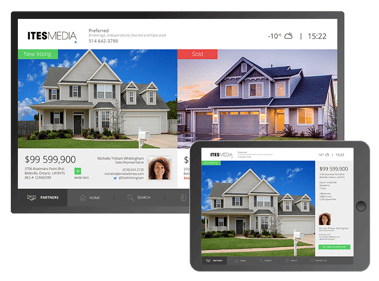 One of the most obvious benefits of digital signage is the real-time updating of listings. Long gone are the days of paper listings and updating every listing by hand. New listings, including photos, videos, specs, price, and the listing agent's name and contact information are automatically displayed on screens for clients to see. These listings can be broadcast on window displays or on waiting room touchscreens.
Compelling Communication Tool to Easily Reach Brokers
Digital signage is a powerful communication tool that helps you reach your brokers and provide them with useful and essential information, whether they are on or off site. Use digital signage to schedule and notify your team of a meeting, inform them of office announcements, provide information that instills the values of the organization and office culture, and share important industry news.